FINANCIAL VIEWPOINT – Money & Mortgages, Oct 2020
2020 The Story So Far…
Little did we know, as we entered a new decade, what was in store for the global economy in 2020. Around the globe, the Covid-19 pandemic has inflicted a huge human cost. The response, and the measures to reduce the spread of the virus have inevitably had a significant impact on global economic activity.
A recent Organisation for Economic Co-operation and Development (OECD) outlook, cautioned, 'as restrictions begin to be eased, the path to economic recovery remains highly uncertain and vulnerable to a second wave of infections. With or without a second outbreak, the consequences will be severe and long-lasting.' With business activity frozen in many sectors, confidence has understandably been undermined. With lockdowns now easing in some regions and economies beginning to reopen, many major indices have rebounded from the lows reached in March as the pandemic took hold.  Read more >>
The latest Financial Viewpoint from Money & Mortgages also covers topics such as cashflow modelling and borrowing options in later years, read more here >>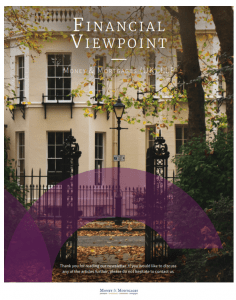 The value of investments and any income from them can go down as well as up and you may not get back the original amount invested.
At Money & Mortgages, our team are working and available during the coronavirus lockdown and we're happy to arrange video meetings and phone appointments.  For more information please contact us on 0161 505 0601 or via email info@moneymortgages.co.uk.