BACKUP Castle House Appeal
Backup (Formerly Bolton Young Persons Housing Scheme) was set up in 1992 in partnership with Bolton Council and Irwell Valley Housing. Charity number: 1064698, it provides an opportunity for young people who are homeless to be safe, stable and develop skills for independence.
Marc, Partner at Money & Mortgages recently nominated BACKUP for a £10,000 Openwork Foundation grant towards the Castle House emergency supported housing service for 16 and 17 year old young people who are homeless.
The Castle House service is emergency accommodation for 16-17 year olds and is designed to be a short stay facility.  There are 10 rooms for young people aged 16-17 who are homeless.   At the centre is a communal dining room, lounge and games room. Each young person has a private bedroom and shares a bathroom with one other young person.
In October 2017, Money & Mortgages Partner Marc Harrison joined 28 of his Openwork colleagues to cycle over 300k across Kerala in Southern India to raise money for the Openwork Foundation. The ride was hot, hilly and humid resulting in Marc raising £4385 for the Foundation, which supports children's charities all over the world.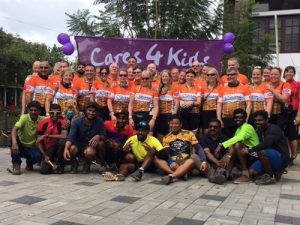 One of Marc's sponsors was Jayne Hart, from Amity Law, who Marc had previously sponsored when she took part in a charity sleep out for BACKUP earlier in the year. After hearing about BACKUP from Jayne, and their fantastic work, Marc nominated them to receive much needed funds to support the emergency supported housing service for 16 and 17yr old homeless people.  In December, the Openwork Foundation posted a cheque for £10,000 which will be used to fund weekend staff costs at Castle House and will help to keep the centre open on Saturdays & Sundays.
Marc also successfully nominated BACKUP for a further Community Giving donation of £1,000 from Skipton Building Society in November.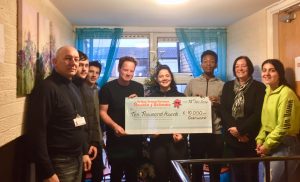 Money & Mortgages have enjoyed sharing our passion for this cause and learning what a difference this donation is likely to make.
The Openwork Foundation, a UK registered charity (number 1184592) is at the heart of the Money & Mortgages business culture.  The Foundation's mission is to make a positive difference and it is proud to support vulnerable children and adults in the UK and overseas supported by the generous donations of time and money from the businesses and members of the Openwork Group. These donations to provide grants to UK registered charities, to help those most in need in our communities and all grants are nominated by a member of the Openwork Group. 
Find out more:
backup-charity.org.uk  Registered Charity number: 1064698
www.openwork.uk.com/charity/the-openwork-foundation/ Registered Charity number 1184592